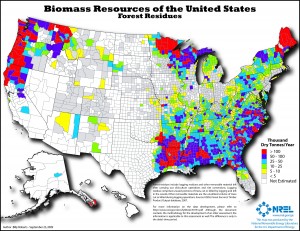 News was published yesterday on a new state-of-the-art facility utilizing forest-product waste to generate steam for operations and electricity for the power grid. As reported by Ryan Murray in The Daily Inter Lake,  Stoltze Land and Lumber Company near Kalispell, Montana has invested about $22 million and 14 months on the five-story co-generation facility.
The plant itself generates steam to run Stoltze's lumber-drying kilns, sawmill buildings and electricity-generating turbine.  Sawdust and forest fallings are blended into a mulch-like biomass fed into the boiler system.
Extensive permitting went into getting the plant up and running. The Montana Department of Environmental Quality and Department of Renewable Energy were extremely helpful in the process, according to Stoltze Vice President Chuck Roady.
Flathead Electric and Bonneville Power Administration have signed seven interconnection agreements with Stoltze to put the power on the grid. The company will receive its first check from the energy cooperative in early November. The lumber company is also receiving renewable energy credits as part of the deal.
The plant has the ability to generate 2.5 megawatts of electricity every year, enough to power 2500 homes.
"[Stoltze] has always been leading in green or renewable technology," Roady said. "So I wouldn't say this is a new direction for us, but it's certainly a new step. We're hoping to pay it off in a little over 10 years."
More information:
http://www.dailyinterlake.com/news/local_montana/article_49425496-3dcb-11e3-b36a-0019bb2963f4.html