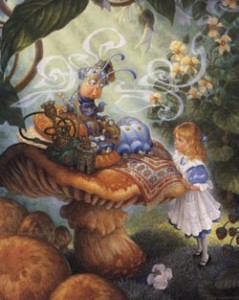 Mushrooms and agricultural waste are being used to create styrofoam and other expanded plastics in a new process developed by a company called Ecovative. The company was founded by Eben Bayer and Gavin McIntyre with encouragement from their faculty mentor Burt Swensey at Rensselaer Polytechnic Institute in Troy, New York. In a class called Inventor's Studio, they formulated a new process for binding together insulating materials using mycelium from mushrooms as a resin. A mycologist named Sue Van Hook from Skidmore College provided expertise to grow the fungi needed for the process.
The company won small grants from the American Society of Mechanical Engineers (ASME) and the National Collegiate Inventors and Innovators Alliance (NCIIA) which funded the initial samples. Proof of their concept enabled the company to win bigger grants from the New York State Energy Research and Development Authority (NYSERDA) and the U.S. Environmental Protection Agency (EPA) to further develop its products. Ecovative is now working with the National Oceanic and Atmospheric Administration to produce materials for buoys. It currently supplies packaging materials to a number of Fortune 500 companies. This summer, Ecovative is cllaborating with the company Sealed Air to build a manufacturing plant in Cedar Rapids, Iowa.
The primary process was described by Eben Bayer in a New Scientist interview published on June 17, 2013: "The strength of our products comes from the mycelium, which consists of millions of tiny fibres. The fibres bond with chitin – a natural plastic produced by mushrooms, similar to what crab shells are made of. Together, these act like a glue fusing agricultural waste such as seed husks into solid forms. Our materials basically self-assemble; the organism is doing most of the work."
These products are biodegradable and the processing being used and developed eliminate the consumption of petrochemicals from oil and natural gas in plastics production.
For more information, please visit the following sites.
http://www.newscientist.com/article/mg21829210.300-mushrooms-are-the-new-styrofoam.html#.UdHsVYLwktI
http://www.ecovativedesign.com/