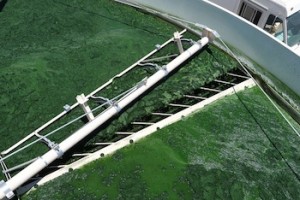 Two members of the U.S. House of Representatives — Scott Peters (D-CA) and Matt Salmon (R-AZ) — announced the relaunching of the Congressional Algae Caucus last week. This caucus aims to provide a forum to foster Congressional awareness of the enormous potential now being uncovered in tiny algae plant cells.
Representative Salmon commented: "In my own state we are already seeing the economic development that is possible from a thriving algae sector, from jobs to research and development. High tech jobs will help grow our economy and through this caucus, I hope to draw attention to the great economic and environmental benefits of algae production."
Representative Peters stated, "My hope is that the Algae Caucus is a place for bipartisan discussion on how to diversify our energy policy, while also informing members of Congress about the jobs and partnerships the algae industry is creating, including at the University of California San Diego with the new California Center for Algae Biotechnology."
Additional members of the bipartisan Congressional Algae Caucus include: Tulsi Gabbard (D-HI), Tom Latham (R-IA), Trey Radel (R-FL), Louise Slaughter (D-NY), Tim Walz (D-MN) , Jackie Speier (D-CA), Susan Davis (D-CA), Ben Ray Lujan (D-NM), Alcee Hastings (D-FL), David Cicilline (D-RI), Ed Perlmutter (D-CO), Jared Polis (D-CO) and Duncan Hunter (R-CA). Hats off to them!
The algae biofuels market is expected to reach $1.6 billion by 2015. Algae also offers additional applications in the food, green chemicals and plastics industries. Algae grows faster and requires fewer resources than other biologically based feedstocks.
My favorite application for algae is its use to clean up wastewater and then used the converted and harvested biomass as an energy source. But there are some really great new developments in algae biofuels that deserve special mention.
For example, the Green Crude Farm in New Mexico is now operational, refining algae into crude oil for transportation. Sapphire Energy raised about $300 million in public and private backing for the project.  Its Series C round was reported to be one of the largest venture capital deals in 2012.
The commercial success of its algae-based crude has enabled Sapphire to pay off the entire $54.5 million in federal loan guarantees the comapny obtained in 2009 from the Biorefinery Assistance Program, administered by the USDA Rural Development-Cooperative Service. "The investments being made in low-carbon biofuel production are paying off and moving technologies forward, which will produce savings at the pump for consumers, and spur sustainable, new-wealth creation here in the United States, and make our land more productive," says Doug O'Brien, Acting Under Secretary for Rural Development.
Commercial airlines are also now testing and running on fuels that include Solazyme's algae-based fuel. Solazyme is reportedly the first publicly-traded algae company (Nasdaq: SZYM). The company has signed a $120 million loan agreement with joint venture partner Bunge for a loan from the Brazilian National Development Bank. That loan will be used It will  be used to develop the first commercial-scale renewable oil production facility in Brazil.
The high yield per acre (up to 5,000 gallons of renewable oil per year on a single acre) and minimal environmental impact of algae biofuels make them one of the most viable and attractive biofuels on the market today.
More information:
http://biomassmagazine.com/articles/9613/congressional-caucus-formed-to-support-algae-industry
http://www.sustainablebusiness.com/index.cfm/go/news.display/id/25109
http://news.thomasnet.com/companystory/House-Members-Commended-on-Congressional-Algae-Caucus-re-launch-20016613